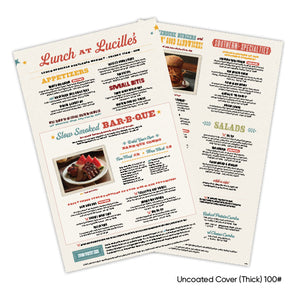 Our Basic Menus are a great option for Limited Time Offerings or for continuously changing menus. With thin & thick stocks to pick from, our basic menus have excellent print quality and colors. It adds more VALUE without the extra charge for Guacamole.  
70# Text Thin / 100# Text Thin / 100# Cover Uncoated Thick
Available in two FREE finishes:
Glossy w/AQ: Smooth with a Glossy Sheen. Great for making Colors Pop!
Uncoated: Slightly Rough & Textured with a professional look and feel.
*Digital Prints will have a slight shine to them on Uncoated stocks.
Need help with file setup? Click here for artwork templates!